Description
🎃TRICK OR TREAT!🎃
In VERY limited quantities, we are frighteningly happy to introduce our brand new KeepEmQuiet Halloween Pack. This special limited edition kit contains all the spooky essentials you need for the scary day. No more rushing around last minute to overpriced party stores, get it all in advance in plenty of time for trick or treating.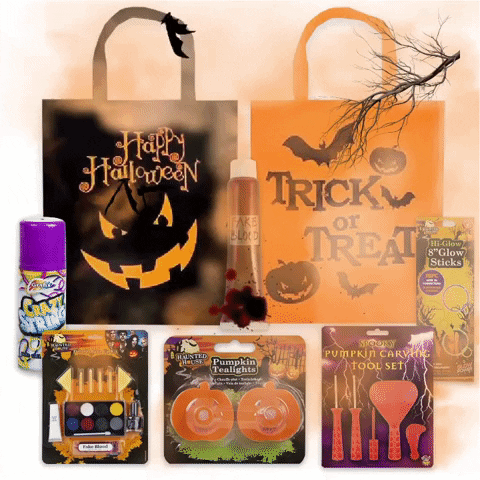 Includes:
2x Trick Or Treat Bags
1x Can Of Silly String
1x Pumpkin Carving Set
1x Pack of 2 Pumpkin Shaped Tealights (to light up your pumpkin safely!)
1x Tube Of Fake Blood
1x Bumper Family Makeup/Facepaint Kit which includes:
1x Face Cream, 1x Blood, 1x Nail Polish
1x Swab, 2 x Sponges, 4x Facepaint Crayons, 1 x 8 Colour Paint Tray
1x 15pc Glow Stick Pack In Assorted Colours
Please note this is in extremely limited quantities and when they sell out we will not be restocking them until Halloween 2021!
Reviews
Or 6 weekly interest free payments from £2.66 today & 5 weekly interest free payments of £120.00 with
what's this?