Best Toys for Flying with Kids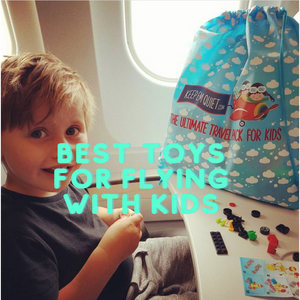 When you're flying with kids, there's always the worry of how to keep them entertained during the journey. When you're stuck on a plane for several hours, the last thing you want is your children getting fidgety and irritable.
Kids are notorious for throwing tantrums when they get bored on long road trips or flights. So, when you're travelling with young children, finding ways to occupy them can be a life-saver. When the kids are quiet, you can enjoy a relaxing plane journey.
When you are packing for a holiday, putting some toys and games in your hand luggage is probably the last thing on your mind. You're usually too worried about not forgetting your passport, plane tickets, or sore nappies.
However, packing some toys when you are travelling with toddlers or young children is essential to ensuring you have a stress-free journey. Otherwise, you should expect a challenge a few hours while you are up in the air.
The question is what are the best travel toys for kids when you are on a long plane journey?
What Are the Most Suitable Travel Toys for Kids?
The most ideal toys to distract a toddler or young child or those that keep them engaged for the longest. They have very short attention spans, so it's important to keep their on-plane activities interesting and varied, especially if the journey is several hours long.
Young children are still in their early years of development, so toys that challenge their creativity, imagination, and cognitive abilities are the most suitable. It might be some arts and crafts supplies or fidget toys to keep their hands occupied
Whatever travel toys for kids you choose, they need to be light, portable, and mess-free. You won't want to have any major spillages on the plane and end up with a hefty cleaning charge from the airline by the end of it!
Now we have discussed what makes a travel toy ideal for a long plane journey, let's get into more specific examples.
The Best Travel Toys for Flying with Kids 
We've compiled the perfect list of activity packs and travel toys for kids so that you don't need to worry about what to pack in your travel bag. These toys will keep your kids occupied on the plane and throughout your whole holiday (link to blog 10). 
Uno Card Game
Despite being almost 50 years old, Uno is still a popular card game for adults and kids above 6 years of age. It's simple and easy to play, and provides hours of fun for you and your children.
Uno gets your kids thinking hard about their next move and keeps them focused. It's a great card game that promotes critical thinking and cognitive development, making it the perfect game when you're travelling with young children.
You can find Uno in the KeepEmQuiet Family Travel Games collection.
Shape Sorter Bucket
Sorting activities are a great way to distract a toddler. This Shape Sorter Bucket has lots of different coloured shapes that your kids can organise into categories or slot into the right holes.
This type of game can improve children's coordination and fine motor skills. Because your children will need to touch and feel the shapes to sort them, this sorting bucket can develop your child's sense of touch. It's the perfect way to keep them engaged in sensory play.
Buy the Shape Sorter Bucket here.
Octopus Fidget Pop Spinner
Combining three popular fidget toys into one, the Octopus Fidget Pop Spinner is perfect when you're flying with kids. The octopus has three cute expressions that alternate as it spins around in your children's hands.
As well as being extremely cute and cuddly, this fidget toy helps to calm your children down, and keep them occupied and focused in sensory play.
You can find the Octopus Fidget Pop Spinner fidget toy at KeepEmQuiet here.
Wooden Farmyard Set
For the children who love animals, the Wooden Farmyard Set is everything they'll need for hours of fun.
This 12-piece set has lots of animals, trees, and a barn for your children to play with. It's a great way to get their imaginations running wild as they act out a farm scene where all of the animals have come to play.
Find this amazing Wooden Farmyard Set and other similar sets here.
Travel Activity Tray
When you're flying with kids, one of the best things you can do is provide variety for them. This way, they remain engaged in play even if the flight is several hours long.
The KeepEmQuiet Travel Activity Tray has a range of exciting activities, including colouring sheets, dry wipe markers, and more! All of the pieces are kept neatly in a tray that sits on your child's lap, so you don't need to worry about losing any of the pieces or having a huge mess to clean up at the end of the flight!
Your children will stay happy and occupied on their long journey as they doodle, draw, and create whatever they want. The act of drawing and colouring improves their tactile strength, fine motor skills, and sense of touch.
The colouring book has easy-to-tear pages for your children to tear their completed drawings out, ready to be hung up somewhere in your home. They can store their completed doodles in the zip compartment at the back of the tray, keeping everything neatly together.
If you think your child will love the Travel Activity Tray, you can find it here.
Silly Sausage Game
Why not get involved in your kid's play while you're flying? The Silly Sausage game is suitable for adults and young children when you're on a long flight or road trip.
Your children can switch, stretch, shake, and poke the Silly Sausage according to his commands. It promotes active listening and reactive play, and inspires the competitive side in your children by encouraging them to get the highest score they possibly can.
Ready to play the Silly Sausage game on your next holiday? You can get the game here!
Paw Patrol GLOWPAD
If your children love getting creative, the Paw Patrol GLOWPAD is the perfect solution to keep keeping them occupied.
They can create stunning pictures or write messages on the board in the bright neon markers. Then they can watch the pictures come to life under the LED lights.
When they're done, they can wipe the GLOWPAD clean and create something completely different. If you're flying with kids, the Paw Patrol GLOWPAD is a must for hours of creative fun! You can find it here.
Flip 'Em Reversible 20cm Sensory Squid Octopus Plushies
When you're travelling with young children, having a cute teddy or plushy to hold during the journey can be very comforting for them.
With the Flip 'Em Reversible 20cm Sensory Squid Octopus Plushy, you get two in one! The squid can be reversed to change emotions from happy to angry. 
This sensory toy can calm your children's nerves and make them feel less anxious about travelling. It can also help to develop their senses and emotional processing because of the two different expressions that the squid can have.
Get your kids some Flip 'Em Reversible 20cm Sensory Squid Octopus Plushies here.
Multicoloured Squishy Sensory Mesh Ball
If your children tend to feel nervous and scared while travelling on a plane or in a car, getting them something to squeeze and fiddle with can be an ideal way to calm the nerves.
This multicoloured squishy sensory mesh ball can be squeezed endless times along the journey to relieve stress and provide a great distraction for your kids. It has lots of beautiful different coloured beads and feels super soft in the hands.
Squeezing and squishing the mesh ball can help to develop the strength in your children's hands and activates both their sense of touch and visual system. They can mold and shape the toy into funky shapes and this can speed up the development of their fine motor skills too.
If you think your kids would love the Multicoloured Squishy Sensory Mesh Ball, you can find it at KeepEmQuiet
here
.
Leave a comment
Comments will be approved before showing up.