Our Sister Site WaggyCaddy.com (For Dogs!) Is Live!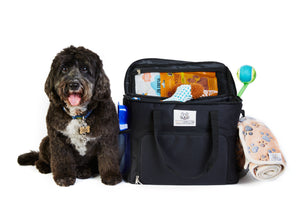 A dog owner from North West London who usually deals with creating the glitz and glamour for A-list celebrities and global events has turned her attention from Strictly Come Dancing to strictly come here and created a unique carry all bag filled with everything you need for your dog.
With her global team of creative directors and choreographers, Nadia Raibin, dubbed the 'Queen of Razzmatazz' by the Evening Standard, usually spends her time putting the show into business for TV, major sporting occasions, VVIP red carpet parties and major corporate events. But thanks to the global pandemic and with the live music and events industry taking a major nose dive, during the last lockdown she pivoted her thoughts and came up with the idea of WaggyCaddy – an essential must have carry all bag that is filled with all sorts of goodies for dogs young and old with a place to keep everything neat and tidy.
She partnered with the team behind ecommerce specialists KeepEmQuiet.com, which provides entertainment packs for children of all ages to keep them occupied and reduce screen time including the page boys and bridesmaids at Princess Eugenie's wedding.
Nadia, who owns a much loved Cockapoo called Bentley, was struck by how many people she saw walking their dogs in the parks, particularly new puppies, during the last lockdown and decided there was a huge gap in the market.
"Every day I would go out with my pockets bursting with balls, treats, poo bags, his frisbee and water bottle and would still have more have bits and bobs connected with Bentley strewn over the back of the car and the boot and I just thought there must be an easier way of trans porting all the stuff he uses every day and a way to keep it neat and tidy too and so I came up with the idea of his own carry bag.
"I spoke to loads of dog owners and they all had their dog's belongings stuffed into smelly old carrier bags or strewn all over their cars .
I came up with a list of the essentials every dog owner has and then designed a carry all bag that could keep them tidily in one place – the Waggy Caddy.
"It's a great bag which contains 19 items - from a water bottle to a LED light-up collar to paw wipes and brush. Everything bought separately would cost £200 but we sell it for 40 per cent less and with the bag, plus you get it all in one go and its delivered to your door. Perfect for a puppy starter kit (so you don't have to buy all the bits yourself - and also for seasoned dog owners who need organisation!"
"If preferred, you can buy the carry all bag on its own and fill it with your own dogs stuff and our online shop sells other fun dogs stuff too, think of the bag as a weekend away bag - it has compartments and storage space for all your essentials, a well made carryall dog bag which heps organize you and your pups life!".
"Partnering with e commerce experts KeepEmQuiet.com was crucial as they had the experience needed to source good quality products and the know how to manage and fulfil orders efficiently and offer great customer service "
Nadia said they have only been live for a few weeks but were already seeing great demand – especially for the full kit.
Waggy Caddy also sell a huge array of other dog essentials from treats, toys, saftey items, travel items, at home products from all the top dog brands such as Kong, Chuckit, Denzel's, PetMunchies, Aquapaw, BarkingHeads, PetHead and many more which can be seen here. The thought process behind stocking such a big variety of well known products which are stocked on other stores such as Fetch.com or VioVet.com is because you can pick your carryall bag and fill it yourself with lots of your much needed dog essentials. A lot of the items are available on a subscription basis where you can subscribe and save.
Leave a comment
Comments will be approved before showing up.