Feeding The Family With A Healthy Twist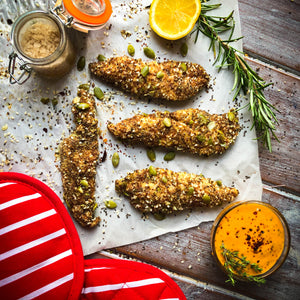 Fussy eating or as I like to call it the mealtime dread. Will they eat anything? Will it be easy? Will it be a battle? Will there be screaming? Or even tears?
My son is a fussy eater. We have had times when he has barely eaten anything at all. Times when there might have been 5 mealtime options that we would alternate throughout the weeks. Times when he would only eat toast and fruit pretty much. He is now 4 & and a half and slowly I am seeing a change. We still don't have a vast choice of meal options but we have had groundbreaking steps forward with broccoli eating to add to peas, sweetcorn, and cucumber, and he claims to have tried mashed potato at school.
During my sons fussiest eating phases I would resort to the old age trick of hiding goodness in what he would eat. Always wary of savoury bowls of healthiness, he would without hesitation devour any form of a desert. Chocolate mousses would become avocado and banana mousse with cocoa powder to disguise the goodness. And chocolate milkshakes could have anything from spinach to kale in them and he wouldn't realise once all mixed up. 
Fussy eating is so frustrating but I used to remind myself that I didn't eat fish until I was in my 20s, and was particular about so many foods. Now I eat everything and not a hint of fussiness left. I only hope that my son continues to try new foods and discover the joy in them. And until that time I will carry on finding ways to superfood his safe foods! 
This week we are lucky to have the fantastic nutritional cook Emily Wright share with us a great way to add some superfoods to the classic kid's teatime favourite, chicken nuggets.
Over to the expert, Emily!
I am a nutritional cook and a busy mum of a two. Like me, I'm sure you will be all too familiar with the struggles of trying to cajole fussy kids into eating the same meal as their parents. I've had far too many turned up noses to even bother trying to get them to try kale crisps or smashed avocado! But having said that, I am too time poor and far too exhausted at the end of the day to cook completely separate meals from scratch. So, I learned the hard way that I needed to be sneaky. I needed to put on my secret mum-ninja clothes and find clever hidden ways to turn my kid's favourite dishes into their healthier super cousins!  All of the unhealthy classics made with a healthy twist, all equally enjoyed by kids and parents alike! Phew! Now pass the wine.
Today I am sharing with you my recipe for Herbed Seedy Baked Chicken Fingers. Not only does it provide good quality protein, but it has the extra benefit of the antioxidants, vitamins and minerals in the coating too.  The chia and flaxseeds provide anti-inflammatory Omega 3s, the sunflower seeds provide a nice dose of Vitamin E and the pumpkins seeds are full of a range of micronutrients including iron, zinc and magnesium.
Serves 2 adults & 2 children
INGREDIENTS
1 tbsp Sunflower Seeds

1 tbsp Pumpkin Seeds

1 tbsp Chia Seeds

3 tbsp Milled Flaxseeds (I use Linwoods)

2 tsp Dried Rosemary

2 tsp Dried Thyme

Salt & fresh ground pepper to taste

350g Chicken Breast

1 Egg
NOTE – This is a basic recipe, but is very versatile in terms of flavours.  For added variety, switch up the herbs (smoked paprika & chilli flakes work very well here too) or add hemp seeds and sesame seeds for an additional nutritional boost.
METHOD
Pre-heat the oven to 180 degrees.
Mix the first seven dry ingredients together in a shallow bowl. Set aside.
In a separate bowl, crack the egg and whisk gently with a fork.
Cut the chicken breast into strips and dip into the egg.
Then immediately coat in the herby s eed mixture and place on a lined baking tray.
Place in the oven for 10-12 minutes depending on how small you cut the chicken. Make sure to check that the chicken is fully cooked through.
NOTE – I like the coating to be chunky, but if you have fussy kids, then it might help to blitz the seeds together in a blender before you dip the chicken to make a sort of seed flour.
Macros for one adult serving
Calories – 259
Fat – 11g
Carbohydrate – 5g
Fibre – 4g
Protein – 35g
Iron – 14%
Bon Appetit!
Check out more of Emily's fantastic healthy recipes on her
blog
Leave a comment
Comments will be approved before showing up.